The number of times that people ask, can you use Blinks to play Catan is surely more than I can recall. While our goal with the Blinks platform is to allow for creativity to run wild, the act of recreating a game or augmenting a game is creative unto itself.
Admittedly, I think Catan is a beautiful game as-is, but this creator, Sam March, has done a nice job of augmenting the game with a digital game board seen here
I feel inspired, and maybe others in the forum are as well to recreate functionality seen here for a game with 19 Blinks (or 21 if you include 2 Widgets dice to do your rolls).
I believe this is a great opportunity to use @BGA's mapping library to first validate that the board is in fact setup for Catan with 19 Blinks, and then provide an easy way to display results like dice roll. In the header image we see a 4 displayed, here is a swing at a font for all 12 numbers: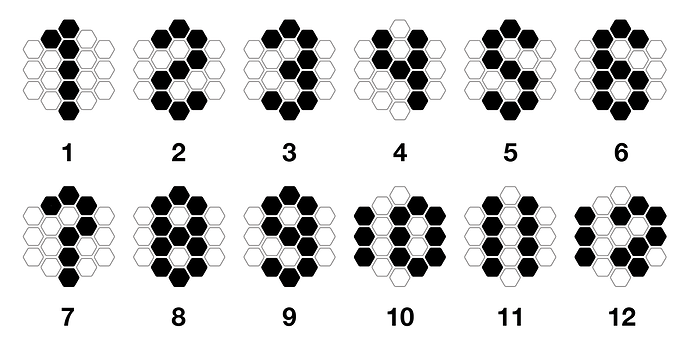 With Blinks, we can even go more detailed since we have the 6 individual pixels inside of each Blink (if someone wants to get really fancy, I bet some anti-aliasing is possible too

Building in the game logic, creating displays for the different resources, somehow displaying the number that would be placed on top of each location… which really, the most important part is how far from 7 it is, this leaves room for some creativity such as it displaying how far from 7 it is, but when pressed, the map reveals the actual number.
Each of the pieces feel pretty clear, I am curious if anyone else has attempted to do this with Blinks. Either way, it feels like a fun experiment to build the pieces for. Looking forward to sharing other thoughts on this here as well.