TRIPLE IMPUT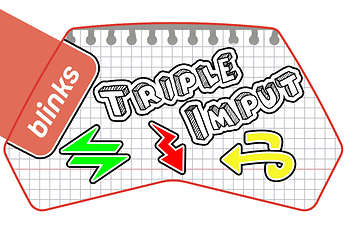 Game for Blinks by Move 38
3 blinks, no more, no less.
1 - 4 players.
Playing time: 1 - 15 min.
Set Up:
Share the game between just 3 blinks in a row.
The middle blink will have 3 colors, the side ones will have Green and Yellow. If is not that way, put them on a line.
Choose difficulty:
One click on the middle blink to go into the level selector.
One click cycle trough levels: Green - Level 1, with 3 lives Yellow - Level 11, with 2 lives Red - Level 21, with 1 live.
Double click the middle blink to start the game.
How to play:
The game will send 3 actions to every blink, do the action in order to not lose any lives.
Red action - Smash the middle blink on time.

Green action - Pull and reattach that blink on time. Same face!

Yellow action - Rotate that blink on time. Any different face!
A triple white flash means you beat the level. Speed increases. If multiplayer, pass the Blinks!
A single white light means you beat the round.
Rest one second and start again. Same speed, same level, same player.
In lower levels, there are no rounds.
In higher levels, there are more rounds between levels.
How long can you stay playing?
Notes:
If you think this game sounds familiar, is based on Boop-It.
It has some bugs duplicating actions, but works 99% of the time. I will keep working on it to improve the game. If you have some sugestions, please, tell me!