Special thanks to @martin awesome idea about having a 3d template to "prototype" games on a manual way.
More info: http://chesstris.com/2020/11/17/blinks-simulator/
Introducing: ProtoBlink v1.
Description:
A complete new way of prototyping games for Blinks, for people who don't know how to code, express your ideas on a physical way!
With ProtoBlink you can even imagine new kind of games that can mix physical and digital!
Also, you can use them Upside-Down To fill gaps between Blinks. (magnets should be reoriented to work)
Features:
Size: Blinks real size, 100% compatible with Blinks.
6 Color Faces: 8mm wood blocks compatible.
Central space for other wood blocks.
Connections: 5mm spherical magnets compatible. (6 needed, 12 for stronger connection) Magnets hold in place alone, so no need to worry about them.
Storeage: Compatible with SushiRoll (not tested yet, but should be)
Easy: One single print for each ProtoBlink, no assembly required.
Components:
Printing specs:
Material: PLA-ABS
Printing time: 50min per ProtoBlink
Infill: 15%
Layer height: 0.2mm
Support: NO (Very important, don't use supports)
Model pictures:
More pictures: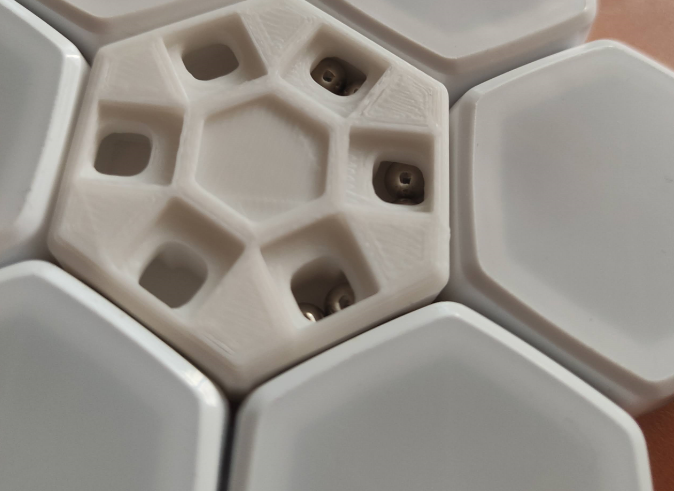 Video:
I'm actually printing a bunch of them, I will upload a video with them working, and the difference between using 6 vs 12 magnets.
File: