As of our latest Kickstarter campaign, Move38 has now published 41 games and 42 unique Blinks (not counting Blanks) and many of you may be looking for a nice way to carry lots of Blinks without having a bunch of loose Sushi Rolls in your bag.
Introducing the Bento Box.
This is an experimental product so I will post a few versions of the file and you can choose which one works for you. Let me know in this thread which one you decide to print. These are large prints and may take a printer 20+ hours to complete a (~10 hours per half).
What you need to make your own
Access to a 3D printer
Filament for 3D printer (I recommend PLA)
3/4" Elastic bands to hold the Bento Box closed
Flat vs. Bent
The flat is the simpler design and provides the same storage space. The bent design is inspired by a yin-yang. I thought the bent aspect might add to the feeling of locking together, however it turns out to be simply an aesthetic addition, however there is something that feels unique about it (oddly enough, I designed the the bent version first).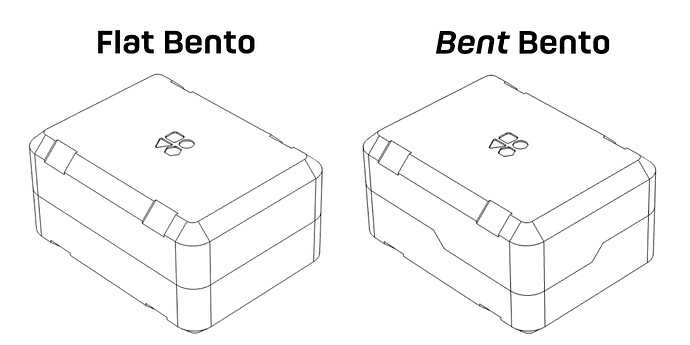 42 Blinks Version
This design is the one created to hold all games published to date, with room for the Party Pack expansion games.
Download STL file for 42-Blink Bento Box (bent)
Download STL file for 42-Blink Bento Box (flat)
36 Blinks Version
Want a slightly smaller version of the Bento Box. This design looks almost identical, but only holds 36 Blinks.
Download STL file for 36-Blink Bento Box (bent)
Download STL file for 36-Blink Bento Box (flat)
Notes
A couple of notes for the current designs. The Bento Box is intended to be used without the need for Sushi Rolls inside. The top (and bottom) of the Bento Box is sized so that you may attach your Sushi Rolls (and/or instruction booklet) flat against the top of the box. I have found it nice to always carry 2 Sushi Rolls on me, since I find 2 to be the versatile amount.
Also note that this design was not optimized for 3D printing, in fact, it was designed for a different type of material altogether. The reason I point this out, is that you may wonder why the wall thickness is so big (which is not necessary for plastic). The design file is for a process with high-density molded cork, a highly sustainable material that is so wonderfully durable, has a unique texture and protective qualities and is 100% compostable. That said, 3D printing your own case out of PLA (also biodegradable) is very low impact as well

Printing Tips:
DO NOT USE SUPPORTS - there is no need, it prints nicely without
Print with a low infill % such as 10% or less
The print is large, and is prone to warping due to cooling, make sure your first layers adhere well
The flat design is newer, that one has not yet been printed in the office, so let us know how it comes out