"Irrashaimase!" is a greeting you might hear upon entering a Japanese store or restaurant. It is a phrase to welcome or entice you to come in. I heard it while going out for sushi with friends once. The staff shout it out every time a customer entered, and it stuck with me.
This game asks you to serve customers via sushi boats moving around a track. A set of tiles defines the conveyor loop. Items on the conveyor belt move autonomously around the loop at a fixed pace.
Ingredient tiles attach to the loop and let you place items on the plates as they pass by. Customer tiles are also attached to the loop and request a specific set of ingredients.
You must construct a plate of ingredients that match a customer's order. Satisfy a customer and they will eat the food on the plate, you will score a point, and the customer will order something new.
Beware as customers won't wait forever! They lose impatience over time and will leave if their order isn't fulfilled quickly enough.
---
That's the plan anyway! I started this project recently and quickly learned that this conveyor belt thing is kind of hard to pull off.
I finally got a test conveyor working tonight so felt it might be safe enough to announce the project. This gif shows a loop of eight tiles, with three plates moving around the path in somewhat lock-step.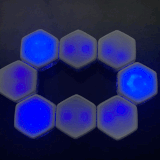 That's all there is now. I haven't added ingredients or customers yet. The repo is below if you'd like to take a look. After programming your tiles, create a loop where every tile has exactly two neighbors. Then double click a tile and it will verify the loop before turning them into the conveyor belt.